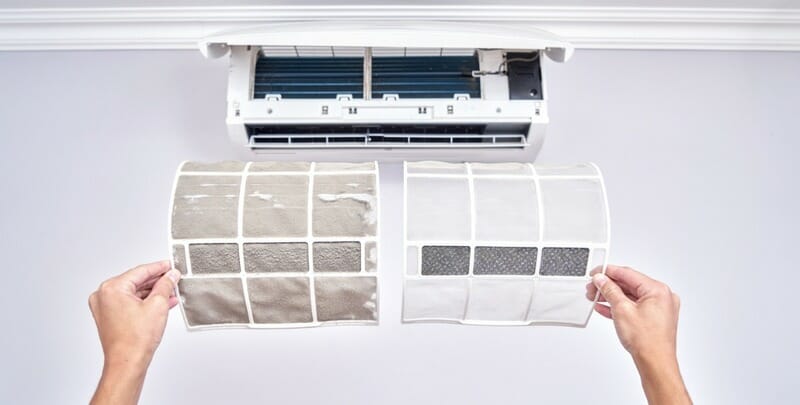 How Often Should You Replace Your Air Conditioner Filter?
For your air conditioning system to function at its maximum efficiency it needs to operate with a clean filter.
The problem is that an air conditioner's filter is so often forgotten about when it is such a simple function to keep it clean. But not only should you aim to regularly clean your air conditioner filter, it should also be changed regularly.
How often should you replace your air filter? That's a difficult question to answer because it depends on a number of factors. Let's examine why the AC filter is so important and what those determining factors for replacement are.
Why Do AC Filters Matter?
While an air filter may not look like an important part of your heating and cooling system, it does actually play a crucial role. No other part of your air conditioning system affects the efficiency of the unit and air quality as much as the air filter.
This most important element of your AC unit filters out contaminants in the air such as mould, dust, debris, fibres, pollen, pet hair, human hair and more. The air filter is so crucial because most people's time is spent indoors and air quality is crucial to your health. Ignoring can even lead to a spike in your energy bills.
Signs You Need to Change Your Filter
There are a number of signs to let you know that your air conditioner filter should be replaced or at least cleaned. Some of these signs are easy to ignore but they are just as easy to remedy. Here are some signs to consider:
Dirt on the filter and around vents: This might be an obvious sign but it is so easy to miss. When air filters look dirty and grey they should be replaced or cleaned as soon as possible. Dust around the vents is also a bad sign, because when filters are clogged they start to release dirt and contaminants into the air.
Reduction in cooling/heating: If you notice that the air conditioner is taking longer to cool or warm up the room and not reaching the desired temperature, it could be due to a clogged filter reducing the airflow.
Energy bills on the rise: A clogged air filter forces your air conditioner to work harder to reach your desired temperature and to maintain it. This will lead to an increase in energy bills when a simple solution – replacing or cleaning your air conditioner filter – could easily save you money.
A musty smell: Over time the tiny particles trapped by the air filter will accumulate and, if the filter is not cleaned, it will cause mould and mildew to grow and you will soon notice that musty smell.
Increase in allergy symptoms: If you're noticing an increase in allergy symptoms such as red eyes, sneezing, a running nose or sore throat it could be a sign your air filter is clogged with dust, pollen, mould and more, which is sending the allergens back into your home and affect air quality.
How Often Should I Change My AC Air Filter?
How often you change your air filter depends on a number of factors. When you're considering when to clean or replace your air filter, consider the following:
Quality of air filter – better quality air filters should be changed every 3-6 months while cheaper filters should be changed or at least cleaned every month
The size of your house
Number of people in the household
Number of pets in the house
Number of people in the house with allergies, asthma or any other respiratory problem
Air pollution level in your area.
Types of Air Conditioner Filters
Not all air conditioner filters are the same and the type you choose can make a big difference in your air quality. There's a choice to be made when you're selecting the right air filter for your heating and cooling system.
HEPA filters – High Efficiency Particulate Air (HEPA) filters are placed on the return air grille of ducted air conditioning systems. They are regarded as one of the best air filters for improving air quality.
UV filters – UV filters use ultraviolet light to kill bacteria, viruses and mould spores. These filters use a UV lamp set to a germicidal wavelength to purify your air.
Electrostatic filters – An electrostatic air filter uses paper and cotton fibres to capture dust and other particles through the natural magnetism of these materials.
Washable filters – Washable filters are a great way to go. You can simply wash these filters and use them again and again.
Spun glass filters – One of the most common type of air conditioning filter is a spun glass air filter. These are cost-effective and used in many air conditioners but are not the most effective at removing airborne contaminants.
Pleated air filters – Cotton or polyester pleated filters are exceptional at capturing debris but not as good at providing air filtration. This loss of airflow makes the air conditioner less efficient as it has to work harder to pull air through the unit.
To summarise, one of the ways to keep your air conditioner operating at its best is to make sure your air filter is replaced or cleaned regularly. If you're unsure about changing your air conditioner filter, ask a heating and cooling professional next time you're getting a service.
Please note: This information is provided for advice purposes only. Regulations differ from state to state, so please consult your local authorities or an industry professional before proceeding with any work. See our Terms & Conditions here.
---