How to Clean Your Air Conditioner Filter
The air conditioner filter is arguably one of the most important components of your home's heating and cooling setup. It's the vital cog in the machine that ensures the cleanliness of the cooled or heated air that you're currently enjoying.
Aircon filters are instrumental to improve air quality in your home, and therefore the health and wellbeing of you and your family. Given their workhorse nature, though, filters do collect a lot of dust, dirt and airborne particles that can impede their overall effectiveness if left to accumulate over time. However, with regular cleaning and maintenance, you can keep your filters clean and your air cleaner!
Air Conditioner Filter Types
Before learning what to do to keep your air conditioning filter clean, it's important to familiarise yourself with the different types of air filters in order to identify the ones in your system. The numerous types of air filters on the market include:
High Efficiency Particulate Air (HEPA) filters – considered to be among the most effective for removing dust, bacteria, smoke, pollen and mould spores. HEPA filters are primarily used in ducted air conditioning units and are fitted to the return air grille.
UV filters – effective at eradicating mould and bacteria with the use of ultraviolet light-emitting lamps. It's important to know that they're not the ideal options for removing dirt and dust particles from the air, and can be on the costlier side when it comes to installation.
Electrostatic filters – on the more cost-effective end of the spectrum are electrostatic filters. They use the intrinsic magnetic qualities of paper and cotton fibres to naturally trap dust and dirt particles. Both reusable and disposable options are available.
Washable filters – a favoured option among air conditioner users looking to be somewhat environmentally responsible. They're not quite as effective as some of the previously mentioned options, so they're better suited to an environment that is less prone to dust, dirt and other allergens.
Spun Glass filters – among the most commonly used filter types, preferred by many for their cost-effectiveness. Though they might be cost-effective, they're not always the most effective when it comes to reducing contaminants in the air. These filters can become clogged quite quickly. Without regular cleaning this can affect the air flow and efficiency of your air conditioner.
Pleated filters – pleated filters come in polyester or cotton options, and while they are highly effective at trapping debris, they're less effective at filtering the air. Like washable filters, pleated filters are potentially useful for people wanting to improve their air quality but don't have any major concerns about asthma and other respiratory problems.
You will need to replace your air filters periodically to ensure your air conditioning system can continue working as efficiently as possible. How often they need to be replaced depends largely on air filter type, how frequently you use your unit and whether or not you have any pets.
But, in between each replacement of your air conditioner filters, they require a thorough clean. So how do you go about cleaning your air conditioner filters? Let's explore further.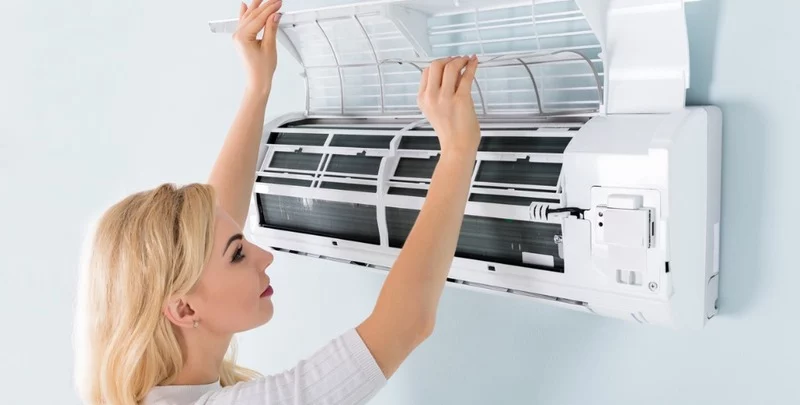 How to Clean Air Conditioner Filters
As we've discussed, your aircon filters are vital for improving the air quality in your home. But to continue delivering optimal performance, your air filters need to be cleaned.
If you neglect to clean the air filter in your air conditioner, it's more prone to becoming blocked by pollutants. When that happens, it's less likely to remove air pollutants and more likely to circulate air that is dirty and able to antagonise asthma and other allergies.
To clean the air filters of a ducted AC unit, follow these instructions:
Make sure that your air conditioner is turned off.
With each of your vents, unscrew the frame. Detach the frame. Pulling it towards you should then allow you to access the air filter.
Carefully remove the filter from the frame.
Wash off your filters either under the tap or with a hose outside until you've removed as much of the dust as possible.
Wash off the opposite side of the filter to clear away any remaining dust. You may also be able to remove excess dust from your filters by giving them a wipe with a soft damp cloth.
Softly shake your air filter to get rid of any excess water, before leaving it outside to dry off.
Reattach your filter to the frame once it is completely dry. Close it up and screw it back on.
For split system units, you'll need to take these steps to clean the AC filter:
Once again, ensure that your air conditioner is turned off.
Take off the cover from the indoor unit and gently remove the filter.
Inspect the filter to determine that there is no indication of damage. If you notice anything like severe tears in the mesh, your air filter will need replacement.
Dunk your filter in a sink or tub filled with warm water. Gently move the filter around to remove dust and other contaminants that may have become lodged in the mesh.
Remove the filter from the tub and replace the dirty water with clean warm water. Add a small amount of vinegar or washing liquid to the water this time around.
Place the filter back in the filled sink or tub and let it soak in the water for about five minutes.
Take the cleaned filter out of the water and let it dry completely before fitting it back in your air conditioner unit.
Following these instructions will help you to remove a significant amount of pollen, pollutants and other unwanted contaminants so your air filters can work with optimal efficiency and continue to provide the health benefits you need.
Get Your Air Filters Cleaned Professionally
Alternatively, if you don't have the time to clean your filters yourself, you can always have them seen by an air conditioning professional. They can clean all types of filters across all types of systems, from HEPA air filters to UV filters and more.
Most technicians will include cleaning as part of a professional service and take the necessary steps depending on the unit type and the type of filter you use.
Get the Best from Your AC System
To get the best efficiency and service from your air conditioning unit, filter cleaning is essential. You can either clean them yourself – at the change of each season is a good rule of thumb – or have them professionally cleaned.
Whichever option you choose, you'll benefit from an environment with cleaner air and the removal of airborne contaminants that trigger allergies. A better quality of life for everyone in your home.
Please note: This information is provided for advice purposes only. Regulations differ from state to state, so please consult your local authorities or an industry professional before proceeding with any work. See our Terms & Conditions here.
---