What You Should Know About Inverter Air Conditioner vs Non-Inverter
You could save up to 58% on your heating and cooling running costs with an inverter air conditioner compared to a non-inverter type.
With inverter technology becoming more accessible to the domestic market, air conditioner manufacturers are taking advantage of this great energy-saving feature.
These significant energy savings are thanks to a different way of running the compressor motor between inverter and non-inverter units. As your local heating and cooling experts, we'll be running through how inverter vs non-inverter air conditioners work and breaking down how inverter types are more energy efficient.
How Inverter Air Conditioners Work Differently from Non-Inverters
The main difference between how inverter air conditioning systems work compared to non-inverters is the compressor. In a conventional, non-inverter air conditioner, the compressor only has two speeds it can run at to maintain your home's desired temperature – on and off, or 100% and 0%.
On the other hand, an inverter-driven compressor keeps the motor turned on continuously and adjusts the speed to vary the temperature. This means the power used can vary between 0 and 100 per cent. This is more energy-efficient than turning the motor on and off repeatedly.
Inverter AC vs non-inverter is analogous to a marathon runner vs a sprinter. A non-inverter air conditioner is like a short distance sprinter, using up more energy in short bursts. The inverter is the marathon runner, who goes at a steady pace and is more energy-efficient.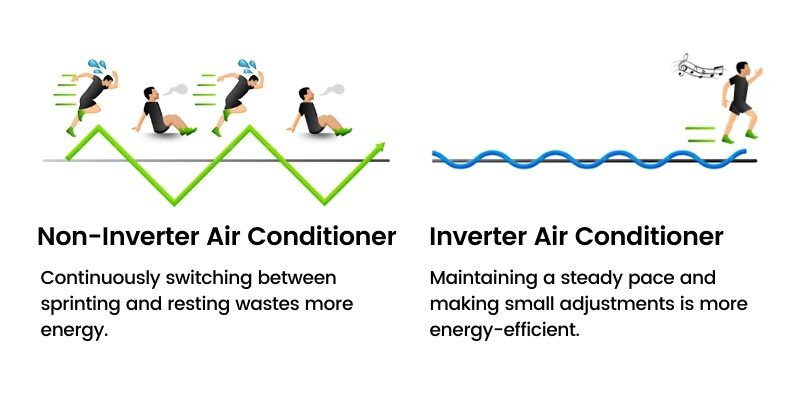 The motor speed is adjusted by alternating the polarity of magnets so that they switch between attractive and repulsive forces. The switching attractive and repulsive forces rotate the motor.
The speed at which the polarity of the magnets is switched is controlled by the inverter-driven compressor, and this controls the motor's rotation speed.
So, if you've purchased a 6kW split system with inverter technology, that means it won't always be running at a 6kW capacity. It could be running at a lower capacity or could even run at higher than a 100% capacity for short times.
What are the Benefits of Inverter Air Conditioners?
Having an inverter air conditioner means you get to experience a range of great benefits. First, and most obvious, is increased energy efficiency, and so considerably cheaper energy bills.
Heating and cooling in the home accounts for 20 to 50% of your energy bill. So, if using your inverter air conditioner mean 58% less energy consumption, then your energy bill will be 11.6 to 29% cheaper!
Increased environmental friendliness is often coupled with energy efficiency. Installing an inverter air conditioner is the more eco-friendly option too!
The variable speed compressor motor means inverter air conditioning is quieter too. Instead of working at full capacity all the time, an inverter ac can operate at lower capacities which are quieter. By turning on and off continuously, a non-inverter air conditioner will be more annoying as it switches from silent to noisy repeatedly.
An inverter air conditioner also means you'll be more comfortable. You'll experience the ultimate in temperature.
Instead of fluctuating temperatures thanks to a non-inverter air conditioning unit that turns on and off, your room temperature will be better maintained with the variable speed motor of an inverter air con. But we're not only talking about the cooling capacity of an inverter air conditioner. With the motor always running, your home's humidity is better controlled too.
Remember how we said an inverter air conditioner can work over 100% capacity for a short time? This means you can enjoy faster heating and cooling with an inverter air con and reach your desired temperature more quickly.
Thanks to the motor being continuously on, this means inverter air conditioners need less maintenance too and will likely last you longer! Turning the compressor off and on puts pressure on the power load and wears out the components faster.
Are There Any Disadvantages of Inverter Air Conditioners?
Between better energy efficiency and a quieter operation, it's hard to think there'd be any disadvantages of inverter air conditioners. There are a couple of disadvantages that you will want to take into consideration before opting for an inverter type, though.
Firstly, an inverter air conditioner will cost you more upfront than a non-inverter unit. Because of the more complex technology, there's a higher price tag associated with an inverter AC. While it might be more expensive to purchase upfront, an inverter air conditioner is more of an investment appliance for your home when you save big on the ongoing running costs.
This also means parts can be more expensive if your unit needs repairs. On top of that, not all air conditioner installers will know the ins and outs of inverter technology. So, it's even more important that you use an experienced and licensed air conditioner technician with a reputation for quality work.
What's the Advantage of Non-Inverter Air Conditioners?
In most cases, the advantages of inverter air conditioners far outweigh those of non-inverter ACs. An inverter system is usually the best air conditioner for domestic situations.
The only reason you would choose a non-inverter air conditioner over an inverter AC is if the upfront cost is too much.
Almost all modern air conditioners on the market today are inverter models, though. With more and more inverter ACs coming onto the market, this upfront cost will be coming down over time.
You can enjoy the comfort and cost-effectiveness of an inverter air conditioner with Metropolitan Air Conditioning. Whether you're after a ducted air conditioner or split system, our team of inverter AC experts won't keep you waiting around with our rapid, same-day service.
You can also enjoy your brand-new air con for no upfront cost with our range of interest free** payment plans.  So, when you're unexpectedly left with an old and broken air conditioner and need an upgrade, there's no need to dip into your savings to cover the costs.
If you're looking to invest in your home's heating and cooling as well as save in the long run, contact Metropolitan Air Conditioning and we can have an expert air conditioner installer at your door today.
Please note: This information is provided for advice purposes only. Regulations differ from state to state, so please consult your local authorities or an industry professional before proceeding with any work. See our Terms & Conditions here.
---