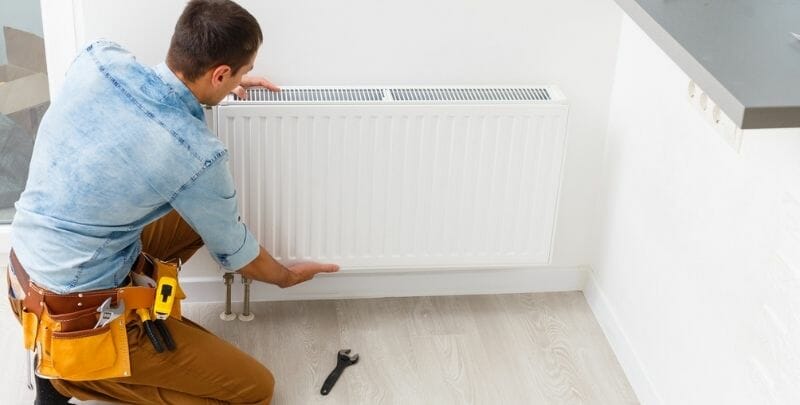 Why Should I Consider Hydronic Heating?
Hydronic heating is growing in popularity in Australia – but most of us haven't even heard of it.
So, what is hydronic heating and how does it work? What benefits does it have for the average household?
For a start, there are health benefits, it's energy efficient and can lead to lower power bills. There are good reasons why hydronic heating has become a much-loved heating option in a number of European countries and the US in recent decades.
How Hydronic Heating Works
As the name suggests, hydronic heating uses water to heat your home. The system circulates heated water throughout your home via sealed pipes.
The heat is then dispersed throughout various rooms through panel radiators, convectors or underfloor heating systems, keeping the climate consistently warm and comfortable. This is similar to ducted heating systems, but it uses natural radiant heat. You can even have heated towel rails in your bathroom, if you want to take that step towards winter comfort.
There are a number of ways a hydronic heating system can heat water, including boiler, wood heater, solar panels or geothermal pumps. Each of these systems has their own individual pros and cons, with thermostat, style and budgetary considerations to be made.
The system that suits you best will be dependent on your own individual heating needs and access to power resources.
Hydronic Heating Benefits
Hydronic heating presents a wealth of benefits that could see you get a lot more out of your heating system. Some of the main benefits include:
Health
Traditional heating systems work by circulating air or pushing air around your home. This method can have a negative impact. It dries out the air and picks up allergens, contaminants and dust.
Central heating systems can be bad for this, particularly if the ducts aren't kept clean. For anyone sensitive to poor air quality, such as asthma sufferers, it can be a concern.
Because a hydronic heating system works by transferring heat to objects (just like in nature) and not the distribution of air – which is called radiant heating – it promotes a healthier environment for you and your family.
Energy Efficiency
Hydronic heating is also energy efficient because water is a better heat conductor than air, which means your home is warmed using less energy. Radiators produce radiant heat, which means the air pressure is never increased.
Modern hydronic systems also allow you to control the temperature in each area of the home through a thermostat, meaning you don't waste energy in parts of the home you're not in.
You'll notice the difference in energy consumption. The system has been shown to produce climate-controlled conditions for families at 20-40% lower cost than traditional heating systems. And hydronic heating is environmentally friendly.
Water that is used for the process is recirculated and recycled throughout the system, preventing wastage.
Comfort
Hydronic heating systems come in so many variations, there is bound to be a system that suits your needs. Whether it's under the floors, or in a few rooms, the hydronic piping can be placed and easily routed around new and existing homes.
Running on a range of fuels from electricity to natural gas, this heating system is one of the most versatile on the market. Working in silence, a hydronic heating system is one of the most comfortable systems for the home.
Multi-zone functions and balanced humidity levels are also benefits that ensure your continued personal comfort.
Disadvantages of Hydronic Heating
While hydronic heating systems have gained popularity for their efficiency and comfort, it's essential to consider their disadvantages before making a decision.
Here are some drawbacks to a hydronic system:
Installation complexity: Hydronic heating installation can be more complicated and expensive compared to traditional forced-air systems. An underfloor heating system is complex to install. It involves laying pipes or tubing throughout your home, which may require significant modifications, especially in existing structures.
Cost: Is hydronic heating expensive? Yes, it can be. While hydronic heaters can be cost-effective in the long run due to their efficiency, the initial installation cost can be quite high. You'll need a boiler, pumps, and radiators or underfloor tubing, all of which add to the upfront expenses.
Maintenance: Hydronic systems require regular maintenance to ensure they run smoothly. You'll need to check for leaks, maintain the boiler, and ensure proper water chemistry, which can add to ongoing costs.
Slower heating: Hydronic heating systems typically heat up more slowly than forced-air systems. This means you might have to wait a bit longer for radiator panels to heat up and for your home to reach a comfortable temperature.
Limited cooling options: Hydronic systems are primarily designed for distributing warm air and don't provide cooling capabilities. You may need a separate air conditioning system if you live in a region with hot summers.
Space requirements: Radiators or underfloor tubing can take up space in your home, which could limit furniture placement or other design options.
While hydronic heating offers many advantages, these disadvantages should be carefully considered to determine if it's the right choice for your home and budget.
What Are You Waiting For?
Hydronic heating is growing in popularity around Australia, providing a range of benefits for those who choose to install it. While it can be expensive to install, you'll notice the difference in your heating costs.
Metropolitan Air Conditioning has more than 25 years' experience within the field and hydronic heating work has become a specialty. We can advise on a system to suit you. We're available 24/7, every day of the year and always aim to be at your door within an hour* of your call.
What are you waiting for? When it comes to energy efficiency and getting the most out of a heating system, you know what to do. Contact Metropolitan Air Conditioning today.
Please note: This information is provided for advice purposes only. Regulations differ from state to state, so please consult your local authorities or an industry professional before proceeding with any work. See our Terms & Conditions here.
---