Hydronic Heating: The Good and the Bad
Even though many Australians haven't heard of it, hydronic heating is becoming a popular option at home. Are you unfamiliar with it? Well, the key is in the name. Hydronic heating uses water to heat the entire home – or selected rooms – rather than warmed air.
It has a number of benefits for householders, from cost efficiency to impactful heat transfer. But is there a downside to this type of heating?
Let's examine what hydronic heating is and some of the reasons why it's regarded as an efficient system for keeping the home warm in winter, along with some of the negatives associated with it.
How Does Hydronic Heating Work?
Most forms of air conditioning and heating use hot air to warm up rooms but hydronic heating uses heated water. Water is transferred through a series of pipes in various surfaces, including walls, floors and towel rails.
While the surfaces are warmed, radiant heat also warms up entire rooms (similar to panel radiators). If your hydronic system has grilles it will heat the air but doesn't push the air around like a traditional heater or air conditioner.
By using heat convection through pipes, hydronic heating offers a healthy alternative to ducted heating, eliminating the potential for circulating harmful bacteria. Most often, the pipes are installed under your floor to produce radiant floor heating, allowing the heat to radiate evenly across the entire surface.
The Benefits of Hydronic Heating
There are many benefits to a hydronic system, some of which have already been mentioned. Let's highlight eight of the standout advantages to using hydronic heating.
1. It's a Healthy Option
Unlike other forms of heating, hydronic heating doesn't need a fan to blow warm air around the room like forced air systems. This means hydronic heaters don't spread dust, bacteria and other allergens in the air, making them a safer option for people who suffer from asthma, allergies or other respiratory problems. Everyone in the family can enjoy the improved air quality.
2. Your Choice of Fuel
When it comes to powering a hydronic heating system, you can use any fuel of your choice. A hydronic boiler can be heated using natural gas, liquefied petroleum gas (LPG), electricity or solar energy. You can even use wood, if you choose.
3. It's Safe to the Touch
Although hydronic heating warms up surfaces rather than air, the different surfaces are completely safe to touch. For example, it's safe to walk on the floor when using underfloor heating systems. That means you don't have to worry about children or pets getting burned by touching radiator panels. These are not extremely hot surfaces.
Modern hydronic heating systems are completely sealed so there are no exposed flames or electrical connections. The water in a hydronic system typically reaches a maximum of about 60°C (140°F), which can adequately heat a room using natural radiant heat but will not scorch hands or feet.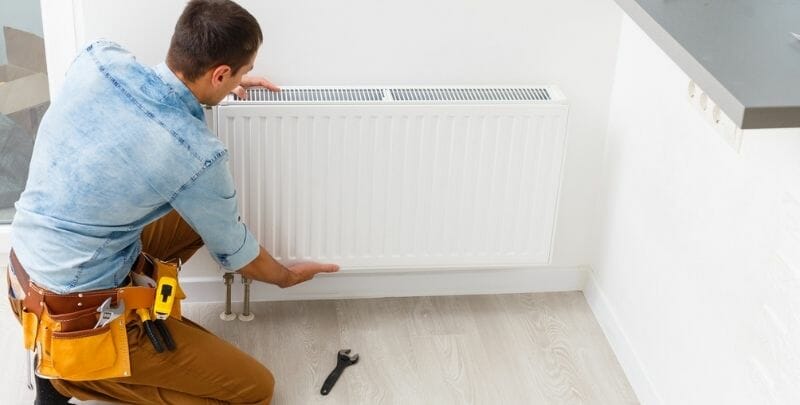 4. It's Eco Friendly
Hydronic systems have minimal greenhouse gas emissions because it's a natural way of heating, primarily using water and your choice of fuel. The sealed system uses radiant heat and recycled water for maximum efficiency. Energy use can be up to 70% less than other methods, such as reverse cycle air conditioning.
5. A Quiet Way to Heat
Hydronic heating is close to the quietest form of heating on the market. There's no noise from a fan or air being blown into the room. Nor are there sounds from expanding and contracting ductwork.
The only noise from a hydronic heating system is the sound of the boiler, which is similar to your hot water system and can be installed outside the home.
6. Save on Power Bills
Hydronic heating is more energy efficient than other systems for several reasons:
Water is a better conductor of heat than air. Once the room heats up it will stay warm for longer.
Hydronic systems are completely sealed, meaning there is less heat loss.
A fan-forced system can direct heat through holes in the wall, which doesn't happen with hydronic heat.
This means you will ultimately save on power bills, especially if you've got large areas with high ceilings to heat.
7. Complete Climate Control
These are essentially central heating systems. You can divide your home into different heating zones and choose what temperature you want for each room. You control the level of heat through thermostats so that each zone meets you and your family's needs.
8. It's Stylish and Even Invisible
Old-fashioned radiators were often an eyesore but modern-day, wall-mounted radiators are a sleek, stylish addition to the room. There's a range of styles available and there's no need for vents, ducts or filters that need to be changed or cleaned. If you've got heated floors or heated towel rails in your bathroom, the system is completely invisible.
What Are the Negatives of Hydronic Heating?
Like any heating system, hydronic heating does have some disadvantages. There are not a lot of negatives when it comes to hydronic heating, but here are some of the cons to consider:
Upfront costs: Is hydronic heating expensive to set up? It can be. Hydronic heating installation is best timed when a house is being built. It's difficult to install hydronic heating systems in a fully developed house and there are higher upfront costs than some other systems.
Heating only: These systems are for heating purposes only and are not versatile like a reverse cycle air conditioner.
Slower to heat: The heated water must travel through the whole system so it takes a bit longer to heat a room using radiant heating.
Regular maintenance is necessary: It is important to keep a hydronic heating system well maintained by checking the water temperature and pressure, purging the radiators, flushing the hot water system and more.
Additional floorspace: A baseboard heater (aka underfloor heating system) does require additional floorspace.
Comparing Hydronic to Other Systems
There are various options to consider when choosing a heating system for your home, and it's essential to choose the one that best suits your needs.
Hydronic heating is an excellent choice for many homeowners, but how does it compare to other heating systems?
First, let's talk about forced-air heating, a common alternative. Forced-air systems, or ducted heating systems, use ducts to distribute hot air throughout your home.
While they can heat your space quickly, they often lead to uneven temperatures, drafts, and can be noisy. In contrast, hydronic heating relies on hot water or steam circulating through pipes and radiators, providing a more consistent and comfortable warmth.
Electric heating is another option, but it can be expensive to operate. Hydronic heating systems are generally more energy-efficient, making them a cost-effective choice in the long run.
If you're concerned about environmental impact, hydronic heating can be a greener option compared to traditional fossil fuel systems. You can use various heat sources, including solar or geothermal, to heat the water in your hydronic system, reducing your carbon footprint.
In summary, when comparing hydronic heating to other systems, it often stands out for its comfort, efficiency, and versatility.
It may require a bit more upfront investment, but the benefits in terms of comfort, cost savings, and environmental impact make it a worthy choice for many homeowners. Not to mention the heated towel rails and underfloor heating system.
Hydronic Heating Could Be Right for You
In conclusion, most hydronic heating systems could be right for you if you've got the space and you're willing to pay the upfront costs for the advantages of a cost-effective, energy efficient system. Your energy consumption and your heating costs will be lower.
If so, be sure to contact the heating and cooling specialists at Metropolitan Air Conditioning to make sure your hydronic system is installed to the highest possible standards.
Please note: This information is provided for advice purposes only. Regulations differ from state to state, so please consult your local authorities or an industry professional before proceeding with any work. See our Terms & Conditions here.
---