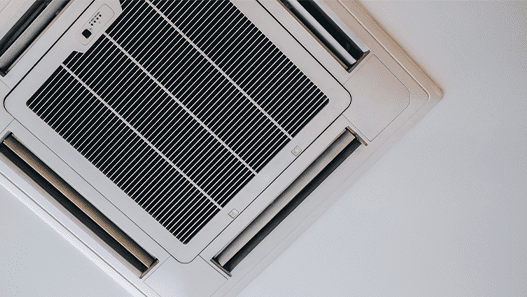 Everything You Need to Know About Cassette Air Conditioners
Many people are unaware of one of the most efficient ways to heat or cool your home – cassette air conditioning. In fact, cassette air conditioners are so unobtrusive that most people have experienced them without knowing it.
That's partly because cassette systems are mainly used in office buildings and open plan areas to heat and cool larger spaces, but they're still suitable for home use. You may find that a cassette air conditioning system suits your climate control needs at home.
But what exactly is a cassette air conditioner and how does it work? What are the benefits of cassette air conditioners and is there a downside? Let's examine cassette heating and cooling systems and their pros and cons.
What is a Cassette Air Conditioner?
A cassette air conditioner is essentially a type of split system, because it consists of two units; one inside and the other one installed outdoors. The difference with cassette air conditioners is that the indoor unit is installed in the ceiling.
The indoor unit is a mounted grille that delivers the hot or cool air through vents and doesn't require any ductwork. The conduit connecting the indoor and outdoor units is hidden in the ceiling space. The unobtrusive design makes them ideal not only for offices and other commercial applications but for homes and apartments.
Cassette air conditioning systems are also quiet, using powerful fans to push the air out, while the noisiest part of the system – the condenser (or compressor) – is on the outside of the home.
How Does a Cassette AC System Work?
A cassette air conditioner works much like other split systems. However, the real difference is the head unit of the cassette is mounted flush with the ceiling for a sleek look. It draws air in the centre of the head unit and cools or heats this air depending on what mode you have it set on. It will then start to condition the space immediately through a "4 way" vent system.
This means that a cassette air conditioner removes odours, pollutants, dust and excess moisture from the air, and replaces it with either cooled or heated fresh air. No ductwork is needed with ceiling air conditioners and the outdoor condenser can power more than one indoor unit, so you can install ceiling grilles in multiple rooms if required.
The cooled or heated air is sent downwards by powerful fans in two, three or four directions through the indoor cassette's vents. Along with the more common square models, there are circular designs that provide 360 degree coverage, giving you balanced airflow.
The Pros and Cons of Cassette Air Conditioning
Like any other heating and cooling system, you want to be sure that a cassette air conditioner is right for your home. Whether you want climate control in your main living space or multiple rooms, it's always wise to weigh up your options.
Let's consider the positives of cassette air conditioners:
Compact and unobtrusive – A cassette air conditioner fits neatly into your ceiling and doesn't take up any wall space in your home.
Air is evenly distributed – Cassette air conditioning units send air out evenly in every direction.
Energy efficient – Cassette air conditioners heat or cool rooms quickly and efficiently, meaning energy is saved when the desired temperature is reached.
Heat or cool large spaces – These air conditioning systems are used in offices and other large spaces, so if you've got an open plan design it will be ideal for your household. The compact units are also suited to small spaces.
They look good – Cassette air conditioners look stylish and can easily fit into most home designs.
They are silent – Cassette systems deliver heated or cooled air without any noise.
Programmable thermostat – You can control the temperature with a programmable thermostat for extra convenience and comfort.
Easy to maintain – Cassette air conditioners last for many years and are easy to maintain. An annual service is recommended and, like other split systems, you should wipe vents with a dry cloth and clean or replace air filters regularly.
But there are some negatives and limitations to cassette air conditioners. Let's examine a few of the cons:
You need ceiling space – Some homes won't be suited to cassette air conditioners. You need space in your ceiling cavity and on your ceiling. The unit could get in the way of lighting and/or a ceiling fan.
You need multiple units – If you want to heat or cool your entire home, you'll need multiple indoor grilles.
The outdoor unit is noisy – While the indoor grille is quiet, you'll have to be careful where you install the outdoor unit, which can be noisy. Consider its proximity to your neighbours.
They're more expensive – Cassette air conditioners are more expensive to buy and install compared to a standard wall-mounted split system.
If you've got a home that suits a cassette air conditioner there's no doubt that it's an efficient choice when it comes to heating and cooling large and small rooms. Speak to a climate control specialist to see if a cassette air conditioning system is right for your household.
Please note: This information is provided for advice purposes only. Regulations differ from state to state, so please consult your local authorities or an industry professional before proceeding with any work. See our Terms & Conditions here.
---