6 Benefits of Using a Window Air Conditioner
With so many different options available to cool your home, from ducted and split systems to simple pedestal fans, the humble window air conditioner often gets overlooked.
Perhaps you wouldn't be blamed for thinking split systems and ducted air conditioners have become so advanced as to make window air conditioners obsolete. However, they still definitely have their place in the market, and have come a long way technologically themselves.
Window air conditioner systems offer a wealth of benefits in terms of convenience and energy efficiency, so let's take a look at some of them.
1. A Window AC is Inexpensive
Compared to more complex ducted air conditioning systems and split system units, a window air conditioner is often significantly cheaper to purchase. Choice Magazine's air conditioner buying guide gives a rundown of different HVAC (heating, ventilation and air conditioning) systems, indicating the following prices:
Window air con systems  – $500 to $1100
Split systems (single and multi-split)  – $600 to $5500
Ducted air conditioning  – $5000 and over
The lower price is typically because a window air conditioner doesn't require the same level of installation as more advanced heating and cooling systems. They are also relatively affordable to operate and provide an appealing cooling option for people on a budget.
2. Window ACs Heat and Cool
Older-style window wall air conditioning models would typically only be able to cool a room during the heat of the warmer months. These days, they're a little more technologically advanced, with current-day models providing heating as well as cooling – ideal for the cooler months of the year.
This makes them a worthy option for year-round climate comfort, delivering warm or cool air to your home across all seasons.
3. They are Portable – To an Extent
Sure, a window air conditioner isn't quite as portable as a pedestal fan or an actual portable air conditioner. They're heavy and cumbersome, and don't typically come with wheels for easy convenience. However, as they simply plug into the wall and don't require permanent installation, you can take your window air conditioner with you if you move house.
They can be a suitable option for renters who may not be able to make permanent HVAC changes to their property, but still want some form of effective cooling. When there's no option to install a split system or ducted air conditioning, window air conditioners can be the next best thing.
4. They are Energy Efficient
Arguably the most important benefit on the list, you'll enjoy excellent energy efficiency from your air conditioner as it delivers constant cool air over the summer season. It only affects the temperature of the room it is installed in, so you don't have to worry about wasting energy on heating or cooling rooms that no one is using.
If you're replacing an old window unit with a more current, energy-efficient window wall air conditioner, it will use far less electricity to cool the room. In old models, the blower fan would continue to operate even when you reached the desired temperature in the room.
Newer, more energy-efficient models allow you to turn off the blower fan at the same time as the thermostat. This can help you to reduce your power consumption and save money at the same time.
5. Range of Cooling Capacity Options
Window air con systems are typically best suited to smaller rooms rather than large, open spaces. However, they do come with a range of cooling capacity options so you can find the one that best suits your needs.
You'll find units ranging from 1.6kW cooling capacity up to 6kW. Be sure, though, to make sure you select the right size unit for the room size. If your window wall air conditioner is too big for the room, you'll be wasting more electricity (and therefore money) than is necessary to cool the room.
However, if the unit is too small for the size of the room, the system may need to use more power to try and deliver the cool air you want during hot weather. And, even then, it may not quite reach the performance you need. Think of it as like Goldilocks and the Three Bears; you want it to be just right.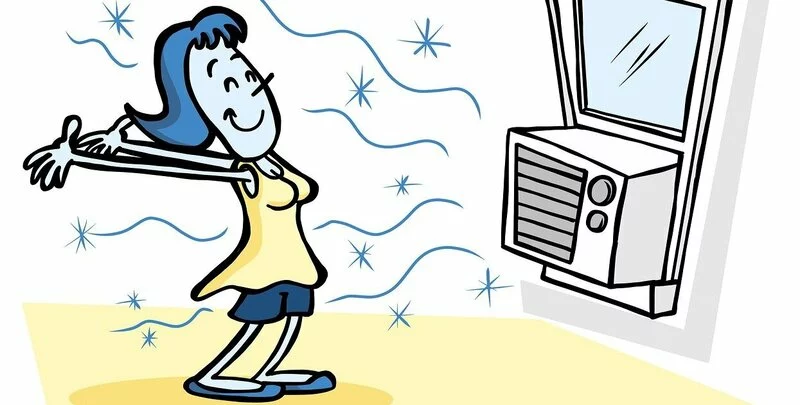 6. They Come with Very Helpful Features
In addition to cooling or heating your room, window air con systems offer a variety of helpful features to help you get the most out of your HVAC system.
From remote control operation to sleep mode functionality, you'll enjoy the convenience that these features provide. Newer models are comparatively quieter than their predecessors, as well.
To Sum Up
In a time where most of us are looking toward split and ducted heating and cooling systems for the home, it can be easy to forget about the humble window air con unit. But it shouldn't be underestimated by any means. It offers a wealth of benefits including:
Affordability at point of purchase
Excellent cooling and heating capabilities
Can be moved about between rooms (or addresses)
Energy efficiency
A variety of sizes available
Convenient features for ease of use
When you're looking for a HVAC solution that provides effective cooling in the summer and much-needed warm air in the winter, is relatively inexpensive to purchase, and is simple and easy to use, consider a window air conditioner for your home.
Please note: This information is provided for advice purposes only. Regulations differ from state to state, so please consult your local authorities or an industry professional before proceeding with any work. See our Terms & Conditions here.
---